Reading time: seven minutes
For many aspiring lawyers the pull of the City can be too much to ignore; bright lights, glass frontage buildings, City views. For others, the idea of packing oneself onto a crammed tube as a bookend to each day is unappealing. So, we've taken it upon ourselves to round up of some of the country's most impressive buildings and spaces that host law firm offices. It's not just London that offers the opportunity to work in a fancy workplace.
One Glass Wharf – Bristol
Dubbed as one of the biggest legal centres outside of London, Bristol is a fantastic city to work in for those looking for a career away from the capital. With the countryside on your doorstep, it's a perfect balance between city and countryside living.
Situated on the city's waterfront, One Glass Wharf "forms the centrepiece of a major urban regeneration scheme at Temple Quay in Bristol". Its glass façade mirrors the impressive architecture of the offices in London, with the building offering six storeys of office space, and food and drink options. The interior of the building looks as impressive as the outside and includes a helical stair, as well as a terrace on the fifth floor which offers staff and clients panoramic views across Bristol.
Which law firms will you find inside?
The building was built as a new headquarters for UK independent firm Burges Salmon LLP and has been the firm's head office since 2010.
The Gherkin – London
Also known as the 'bullet building' or, more formally, 30 St Mary Axe, the Gherkin is one of London's most iconic buildings. Featuring in the opening credits to Lord Sugar's The Apprentice, among other famous TV shows, it boasts an imposing presence in the London skyline, despite not being anywhere near as tall as The Shard or the newly built 22 Bishopsgate.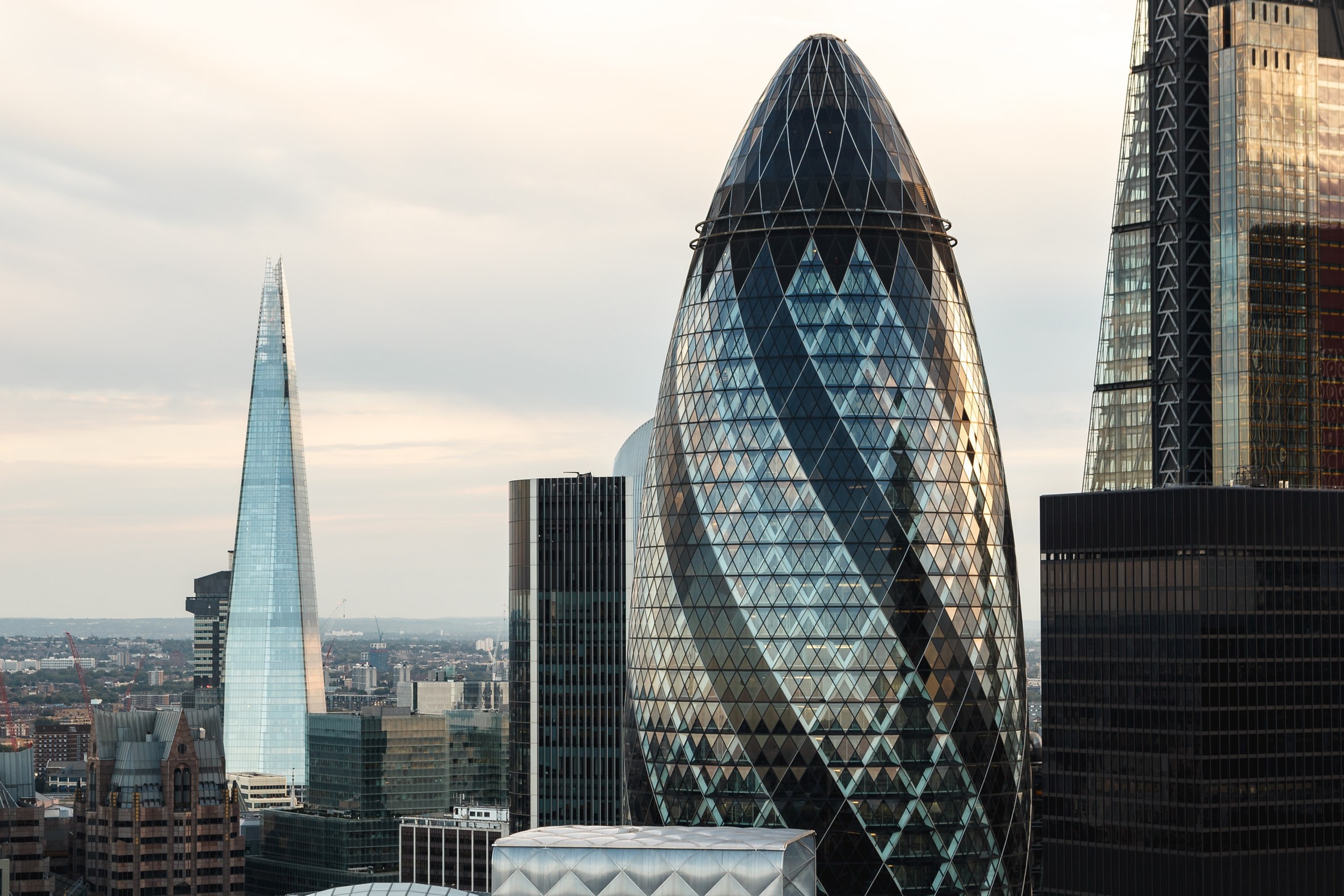 Which law firms will you find inside?
The Gherkin has been home to global law firm Kirkland & Ellis International LLP for 16 years. However, in 2021 the firm revealed that it'll be moving to a new building, on completion, at 40 Leadenhall Street – a 34-storey site that's been nicknamed 'Gotham City'. Chair of the firm's executive committee Jon A Ballis believes the new building will also be a "modern and iconic building with state-of-the-art features".
So, while the firm waves goodbye to one of the City's most Instagrammable buildings, it welcomes the opportunity to be one of the first companies to experience the innovative perks that the new 34-storey site has to offer.
Hunton Andrews Kurth (UK) LLP, which celebrated its 120th anniversary in 2021, is also situated in the Gherkin.

One and Two Snowhill – Birmingham
One and Two Snowhill are part of the Snowhill Estate in Birmingham, a 17-year project that was finally completed in 2020 with the erection of Three Snowhill. According to Ballymore, the scheme's developers, the £200 million project is "the largest ever speculative city centre office scheme built outside London" and comprises more than one million square foot of office space!
The estate features several unique characteristics, including entrances on two levels that lead guests and employees into the "largest and most dramatic" office reception in Birmingham.
Which law firms will you find inside?
You can spot multinational law firm DWF Group Plc in One Snowhill, with international firm Gowling WLG (UK) LLP calling Two Snowhill home.
The Walkie Talkie – London
Fenchurch Building, dubiously nicknamed 'The Walkie Talkie' due to its shape, not only hosts some of the City's most prestigious law firms but is also home to London's highest public garden – the Sky Garden.
The original plans for the building would've seen the skyscraper reach heights of nearly 200 metres, but due to concerns over the "visual impact" this would have on St Paul's Cathedral and the Tower of London, it stands at 160 metres instead.
But the building's shape and height are not the only reasons it's famous. Believe it or not, in 2013 the curved building actually fried an egg. Following claims that the light reflecting off the glass structure had melted parts of a parked car on a nearby street, a journalist from CITY AM wanted to test the 'Walkie Scorchie' skyscraper's cooking abilities... and it apparently worked.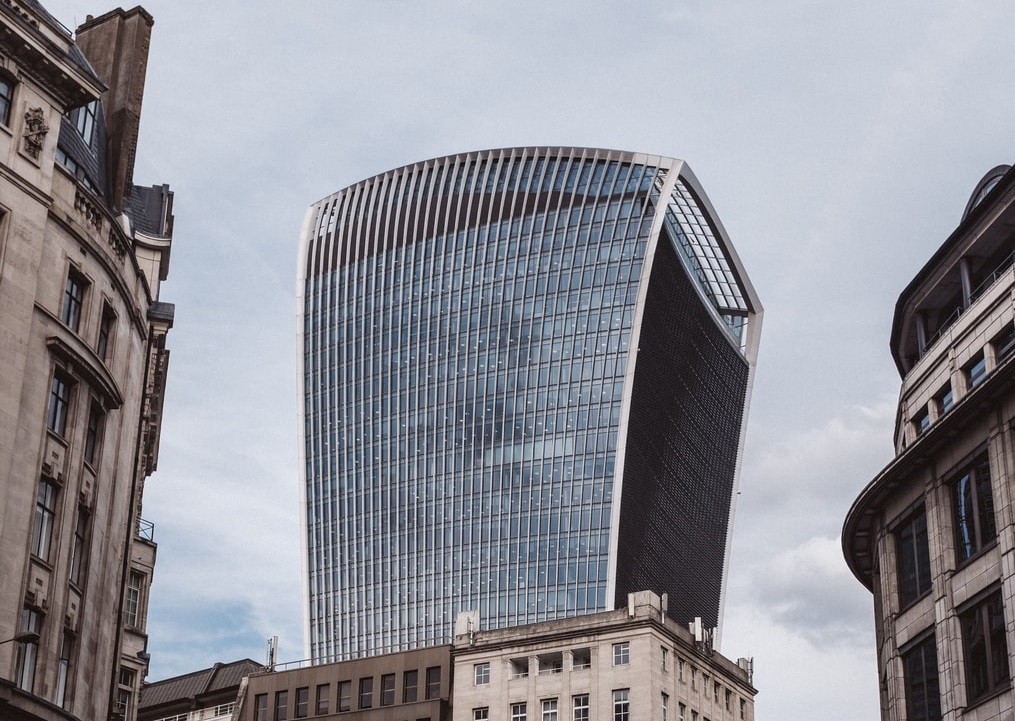 Which law firms will you find inside?
Leading dispute resolution firm Kennedys joined DWF and US-based international law firm Vinson and Elkins RLLP in the Walkie Talkie in December 2022. The firm signed a 10-year lease and described its new home as the "ideal location and space".
DWF and Texas firm Vinson & Elkins were two of the first law firms to occupy space in the building.
Spinningfields – Manchester
Spinningfields is Manchester's financial district, and is also home to an array of shops, restaurants, bars and more! So, while it's not technically one building, it really is one of the go-to areas in the city, popular for the variety it offers. Museum? Tick. Opera House? Tick. Food? Tick? Work? Tick? You get the gist.
Which law firms will you find there?
Located at No 1 Spinningfields is full-service law firm Browne Jacobson LLP. With a "modern, agile and vibrant office space", the firm has started to adapt to the notion that the future of working has potentially been forever changed. More than 90% of employees at the firm expressed a wish to work more flexibly in a post-pandemic world, prompting the firm's new "multi-functional" space and a reduction in standard desks to make more room for open plan workstations and the introduction of the most up to date video conferencing technology.
Shoosmiths also has offices in the XYZ building, which sits alongside the River Erwell in the heart of Spinningfields Manchester. The firm's offices feature a library and a garden to emphasise the importance of employee wellbeing.
Squire Patton Boggs (UK) LLP also occupies space at No 1 Spinningfields, while JMW Solicitors can be found at 1 Byrom Place, less than one minutes-walk to Manchester Opera House!
Africa House – London
With its marble 1920's art deco detailing, listed landmark status, and Portland stone façade it's no question that Africa House belongs on this list.
Lawyers who work here can enjoy the space's ornate ceiling carvings and decorated staircases on either side of the reception, offering a sense of grandeur when entering the building.
Which law firms will you find inside?
Mishcon de Reya LLP established its base in Africa House ensuring it offered both staff and clients alike a space where they feel at home. Its marble floors, sweeping staircases and portrait of the firm's founder Lord Mischon are only some of the illustrious features the space offers.
The NatWest Tower – London
Why do they all have nicknames? Commonly referred to as the NatWest Tower, but formally called Tower 42, this building's name comes not from its shape but from its original purpose – you guessed it, to house NatWest's international headquarters. It just doesn't have the same ring as the 'Gherkin'.
You might also recognise the building for its multimedia lighting system, which is regularly lit up to support important causes including BBC's Children in Need, The Salvation Army and Breast Cancer Awareness.
Which law firms will you find inside?
International law firm Taylor Vinters LLP and City firm Arnold & Porter LLP currently have bases in the 600-foot skyscraper, along with Crowell & Moring and Sullivan & Worcester.
22 Bishopsgate – London
Completed during the pandemic, 22 Bishopsgate is 278 metres high with 62 storeys – the second tallest building in the country, after the Shard which stands at 310 metres.
But its height is not the only impressive characteristic. The square footage is huge at just over 195,000 square foot. The building is brimming with talking points: the high-speed double-decker lifts, an "art street", a 41st-floor "retreat", a glass climbing wall on the 25th floor, a club (?!) on the 57th floor and a market, including coffee shops, bars and street-food style stalls, on the second floor… the list is never ending. The building has been described as a "vertical village", with a viewing gallery at the top of the building which will be open to members of the general public for free!
Which law firms will you find inside?
Taking up space across four floors is US law firm Covington & Burling LLP. While multinational law firm Skadden, Arps, Slate, Meagher & Flom (UK) LLP has three floors, as does global law firm Cooley (UK) LLP.
Halo – Bristol
Halo is set to become the UK's most sustainable office building, covering 116,113 square feet in central Bristol. As well as a double-height reception and full-height central atrium, Halo also boasts exterior and interior views, and state-of-the-art technology, including air quality management and rapid car charging facilities. But that's not all. With a core focus on wellbeing and sustainability, this office space will hopefully be part of a happier and greener future.
Which law firms will you find inside?
International law firm Osborne Clarke LLP moved into this green-focused building following its completion in Spring 2022.
Now what?
The point of this non-exhaustive list is to show you that while there are some pretty cool offices in London, being in the capital isn't your only choice. There are legal workplaces up and down the country that have their perks – whether that's sustainability and wellbeing, or being located next door to a bar with a post-work happy hour!
Head to LCN's researching law firms page for advice and tips on how best to conduct your research!