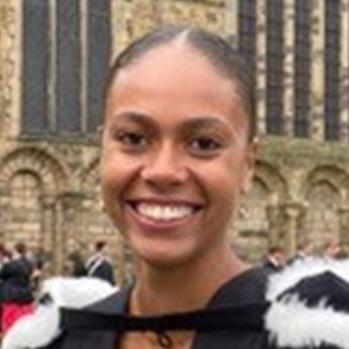 Ayshea Baker
When: Winter 2017
Subject: English literature and French
University: University of Birmingham
What did you do while on the vacation scheme (eg, type of work, networking, presentations or social events)?
We got straight into doing interesting work on the first day of the scheme, when we were given free reign to knock on doors and seek out tasks across the firm's different teams, encompassing a range of practice areas. Over the course of the scheme I worked for the employment, corporate, global disputes and intellectual property teams, and the variety of opportunities was really beneficial to me as someone with a non-law background. All the work was on live matters for the firm's clients. There were lots of social events throughout the two weeks – I think there was something to do almost every evening after work, including ice skating at Somerset House as the scheme took place close to Christmas. As soon as we arrived there was a welcome drinks reception where we had a chance to meet lawyers in the firm as well as the other vacation schemers, and there was also a tapas evening and a visit to an art gallery. I was able to do some pro bono work for a legal advice clinic during the scheme, and there were opportunities to attend partner-led talks on the firm's different practice areas. There was also a business discussion exercise involving a one-to-one discussion with a partner or senior associate, as well as a group negotiation task.
What did you feel that you gained from the placement (eg, insight into the firm, useful contacts or an appreciation of a trainee's workload)?
Jones Day's vacation scheme was unlike any other that I have experienced because I didn't feel like a work experience person and was treated as a valued team member. People seemed genuinely interested in my opinion, while the work I did was really beneficial because I was able to see that law in practice is not black and white, and that there is always room for interpretation.
Which were the most enjoyable – and most challenging – aspects of the scheme?
Going from door to door to seek work was a great experience – it was good to take the initiative and I probably took just as much away from my conversations with partners while doing this as I did from doing the work itself. The whole scheme was challenging as no two days were the same – I had different work and new experiences every day. During the second I week I found that I had a higher workload because by that point I was trusted enough to be given more to do, so there was the challenge of juggling different priorities.
Did the scheme end with a training contract interview or some other kind of further recruitment process?
Yes, everyone had a training contract interview in the second week, which was with two partners that we hadn't necessarily worked with previously.
Is there one key thing that you took away from the experience that you would pass on as advice to others?
Make the most of every opportunity that comes your way. The firm doesn't expect the finished article but wants to see that you are willing to learn and that you are open-minded. The more you put into the Jones Day scheme, the more you will get out of it.
View Jones Day's details
Go to Jones Day's website