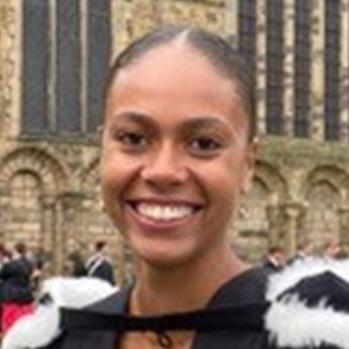 Leonie Ghirardi
When: Spring 2016
Subject: Law
University: University of Reading
What did you do while on the vacation scheme?
Mirroring the non-rotational nature of training at Jones Day, there were no 'seats' during the vacation scheme. I wasn't assigned to a department or supervisor; instead I was required to 'walk the floors' – a term often used at Jones Day – to seek my own work. As well as helping me get to know the lawyers of the firm, it also gave me exposure to a wide variety of practice areas, which is one of the great benefits of the firm's training model. I was involved in renegotiating the terms of a partnership deed and actually found myself drafting the notes that were to be sent to the client, which was an exciting level of responsibility. I carried out some financial due diligence for a multijurisdictional deal and was involved in a data protection breach case, as well as in tasks with the real estate, IP and competition law teams. I also sat in on client conference calls and even attended an external investors' meeting with a firm associate. In addition to this 'live' work, all vacation scheme candidates participated in a group negotiation exercise – which was a lot of fun – and a one-on-one business discussion where we had to pitch a client we thought the firm should represent and justify our arguments to a partner. The scheme was also packed with social events, including firm receptions and a ping pong social where the graduate recruitment team got really involved! I also attended an optional workshop which discussed the ethical issues solicitors could face and professional conduct, which was enjoyable and insightful.
What did you feel that you gained from the placement?
I gained a great insight into the firm. I left with a real understanding of the practice areas and working culture of the office. I also got a real appreciation of the non-rotational training contract structure and a sense of a trainee's role within the firm, as well as the demands that trainees face within a fast-paced, commercial environment.
Which were the most enjoyable - and most challenging - aspects of the scheme?
Walking the floors was the best aspect of the scheme, for me. Every day I arrived knowing that I would meet new people and try something new. Lawyers at Jones Day know that trainees and vacation schemers will be knocking on their doors to ask for work – it is ingrained in the culture at the firm – so they were all friendly and happy to get me involved in their work. The flipside to the non-rotational system was having to manage conflicting priorities, which was challenging to get to grips with in two weeks. But I felt that this gave an accurate reflection of how life as a lawyer in the City would be.
Did the scheme end with a training contract interview or some other kind of further recruitment process?
Candidates knew we were being assessed throughout the scheme on our work product. All vacation schemers are guaranteed a training contract interview. This is conducted during the scheme rather than at the end to allow candidates to take feedback on board and still have a chance to secure a training contract before the scheme concludes. This assessment approach was very holistic, which I valued.
Is there one key thing that you took away from the experience that you would pass on as advice to others?
Be yourself as much as possible, because the environment at Jones Day is one which can really bring out the best in you.
View Jones Day's details
Go to Jones Day's website