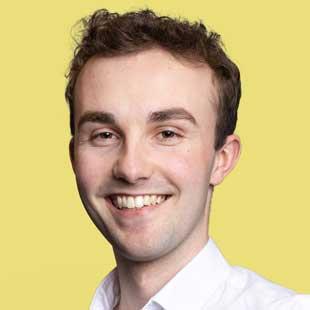 Becky Delaney
When: Spring 2018
Subject: Law with European legal studies
University: University of Newcastle
What did you do while on the vacation scheme?
During the week's scheme I was placed in the commercial department. Although the department wasn't my initial choice, I enjoyed experiencing something unfamiliar. I'd recommend going for a department that's outside your comfort zone as it was interesting to be doing something I knew little about!
The work was varied all week; it started off with tasks like proofreading and moved onto drafting contract terms and carrying out red flag reports. Some of the tasks were quite challenging, but the trainee buddy I was paired with and my supervisor (a senior associate) were always on hand to offer guidance. There was also plenty of opportunity to explore other departments through networking, and question and answer sessions. For instance, I am interested in competition law and the director was more than happy to give me an insight into that department over coffee.
There were two assessments throughout the week, which were both engaging, fun tasks – an individual written exercise and a group negotiation. Social events included a lunch with trainees and associates on the first day, and a mid-week social attended by partners. I was also invited to attend a social client event within the commercial department. This was a great insight into how Walker Morris interacts with their clients.
What did you feel that you gained from the placement?
For me, it was a two-way process. From reading the website to speaking to people at the firm and experiencing the culture first hand, the scheme was a confirmation that Walker Morris was right for me. I also really enjoyed that I was given current client work, so I now feel more prepared for what to expect as a trainee and their fast-paced workload.
Which were the most enjoyable – and most challenging – aspects of the scheme?
I enjoyed the entire week, but I really liked the close interaction with the trainees. It was useful to gain a realistic insight from people who are only a few steps ahead of you. Additionally, I enjoyed the responsibility of assisting with current client work. On the flipside, it was challenging at first to adjust from an academic to a client-focused mindset – but we were given ample support from our supervisors.
Did the scheme end with a training contract interview or some other kind of further recruitment process?
On the last day there was an informal chat with a partner and HR about how I had found the week and the work I had done. I was offered a training contract shortly afterwards.
Is there one key thing that you took away from the experience that you would pass on as advice to others?
The firm is looking for individuality, so the more things you get involved with, the more chances they have to see if your personality fits with them. I also advise researching the department you'll be in; once I knew I was in commercial, I did some research into the head of department, so that when I first went to introduce myself I had talking points and genuine questions which made it less daunting. Overall, enjoy the week because it goes so fast!
View Walker Morris LLP's details
Go to Walker Morris LLP's website