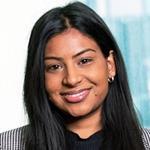 Katy McAteer is the HR resourcing coordinator at Ropes & Gray. She has been at the firm for two years and is based in the London office.
How did you end up in law?
The first time I realised I wanted to work in trainee recruitment was when I completed a vacation scheme at a law firm. I remember thinking that it must be interesting developing the various assessments to measure candidates' competencies and ensure that they are given a fair opportunity to succeed.
After university I began sourcing roles in this field and several years later, I can see I was right in thinking it was better on this side of the table!
What are the most/least enjoyable aspects of recruiting?
I enjoy the fact that my job is so varied and I need to be an expert in so many fields, from knowing how the firm operates, to helping design and coordinate a recruitment campaign, to facilitating an exceptional selection process. There is never a dull moment and I am able to hone lots of different skills.
The least enjoyable element is knowing that you cannot offer everyone a training contract. This is a competitive process and unfortunately we will not be able to offer some competent candidates training contracts. No matter how many times I have made feedback calls, it is still not a task I enjoy.
What is the biggest challenge of the job?
As we develop our brand, we need to strengthen our brand awareness and ensure our message is being effectively communicated to our target audience. The legal recruitment market is very crowded and the top firms are all competing to attract the best candidates. We need to constantly be thinking of how we can convey our brand to candidates and influence the best students to apply to us. Whether this is by fully understanding Millennials and interacting with them, or focusing on our campaign strategy, it is a big challenge and something we need to consider every year.
What has been your most memorable moment in the job?
One of my favourite projects to date has been working on the enhancement of our external website and brochure. This has been an interesting project because I have really enjoyed working with the various creative and communication teams, and I have been able to really consider the firm's USPs. Seeing a project come together after you have wanted to work on it for so long is incredibly satisfying and I know I have made a tangible difference to the firm's trainee recruitment programme. The project is nearing completion now, so watch this space!
Do you socialise with your trainees/vac scheme students?
Ropes & Gray is a very sociable and collegial firm, and I think it is important to build social relationships with my client group. Part of my role focuses on trainee development, so I want the trainees to know I am there to support them and help them develop. I hope they all know that they can come and talk to me about any issues or problems, as I am always happy to listen and provide them with help and advice.
During the vacation scheme we encourage the students to socialise with as many different types of employees as possible, so they can really understand how the firm operates and hear different peoples' experiences. The students attend an office networking event and go on a night out with the trainees, which is very popular.
What are you trying to achieve at law fairs?
Law fairs are a great recruitment tool for two reasons. Firstly, they are a great opportunity for us to promote our firm to as many students as possible. We want students to take our brochures and goodies so they have the information they need to make an application to our firm.
Secondly, we want to speak to students, as by providing them with advice and insight we can help them make informed career decisions. We also want to form relationships with stellar candidates and give them detailed information about the firm to enhance their application forms.
What's the best question you've been asked at a fair?
I think the best questions are from students who have done some preliminary research about the firm. They can then use this information to ask pertinent questions about the firm's operations, practices or strategy. I can immediately tell whether a student has researched the firm, and understands the make-up of the firm or the challenges we face.
How important is your vacation scheme as part of the recruitment process?
We are putting more and more emphasis on the vacation scheme as we would like it to be our primary recruitment tool. This is because it's a great opportunity for us to see a candidate's performance over an extended period of time. It gives us an insight into how the candidate interacts in an office environment, how they are able to cope with trainee-level tasks and their intellectual ability is tested through the various assessments.
The vacation schemes are also excellent opportunities for candidates as they will be able to gauge whether our firm is the right place for them to train. They'll also gain a wider insight into the legal profession thanks to the training sessions, presentations and informal discussions we hold.
What is the most common mistake you see candidates making, apart from the obvious typos?
It quickly becomes clear if a candidate has not thought about why they want to apply to our firm, and has not researched the firm thoroughly. Therefore, I would advise applying a targeted approach and choosing a couple of key firms you want to apply to. You should then take the time to research the firm and understand its clients, practice groups, culture and international operations. Quite often interviewers will ask you which other firms you are applying to and they will expect you to have a logical answer.
What are the attributes you look for in a trainee that are particularly suited to your firm?
We look for candidates who have the intellectual ability to understand, solve and communicate our clients' most intricate problems in an innovative and commercial way. As collegiality is one of the firm's core values, we are also looking for candidates who are team players and will enjoy working with other like-minded individuals across our network. Finally, we look for candidates who are entrepreneurial. Our firm is still growing, so business development is key to our continued success.
What advice would you give to anyone thinking of joining the legal profession?
I genuinely believe this one of the best professions because it centres round intellectual ability, client service and teamwork. I understand that it is extremely competitive to secure a training contract and it can be disheartening at times when the rejections pile up. Therefore, you need to be very motivated to embark down this career path as there is no doubt that it will be difficult at times. You need to be 100% committed so that you can cope with the rejection and difficult hours to come. You also need to have confidence in yourself; if you know you have the qualities that great lawyers possess, then you have as much chance as anyone else in securing a training contract, and you deserve it no less.
Which practice areas are the real core of the firm's business and will this change?
The firm's historic strength has been in private equity and fund formation; these practice groups are central to the firm because they generate deal-flow and require advice from our contentious practice groups. The London office also has a developed finance practice, including a large high-yield group, which is something that distinguishes us from our competitors.
What is one key fact that you expect candidates to know about your firm?
I think trainees at Ropes & Gray have such a unique experience because they are able to work with some of the biggest clients in multi-jurisdictional teams, while also enjoying the benefits of working in a relatively small London office. They are able to gain early responsibility and exposure, while working in a firm with a truly global brand.
What is your dream job (other than this one!)?
I am passionate about preserving our natural environment and its biodiversity, so I would either like to be involved with a NGO that works for this cause or as the secretary of state for environment, food and rural affairs so I can work to ensure that the United Kingdom limits its effect on the environment.
What's your guilty pleasure?
Carrot cake!
What's your desert island disc?
'Get Free' by Major Lazer.
View Ropes & Gray International LLP's details