Clyde & Co LLP



Tom Gorrard-Smith studied Law at the University of Leicester and completed his LPC at the University of Law's Moorgate centre. He is an associate at Clyde & Co.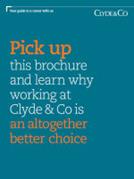 Brochure
Clyde & Co is urging you to pick it up. If you're tempted by what it's offering, this could be the beginning of a beautiful relationship.

A triumvirate of recruiting experts, Clyde & Co's team of three has advice aplenty and energy to burn. Read on to meet the terrific trio that is Caroline, Hayley and Emily.
Applications to: Ms Caroline Walsh
Method of application: Online Application Form
Method of assessment:
Assessment centre
Partner interview
Presentation
Written exercise
Deadlines:

| | |
| --- | --- |
| Training contract to commence 2015: | 31/07/2013 |
| Summer work placement: | 31/01/2013 |
| Spring work placement: | 31/01/2013 |
| | |
| --- | --- |
| Vacancies: | 35-40 |
| Trainees: | 72 |
| Partners: | 283 |
| Staff: | 2349 |
| Work placement: | Yes |
| Number of work placements: | 45 |
| Minimum qualification: | AAB at A level and strong 2.1 degree |
| Start salary: | £36,000 |
| Sponsorship: | GDL/LPC |
Application details and method of selection
Apply before 31 July 2013 for September 2015 entry. To obtain information on how to apply, please visit our website: graduate.clydeco.com.
Please note that we review applications on a rolling basis so the sooner you apply, the better.
---
Firm description and career prospects
Clyde & Co and Barlow Lyde & Gilbert merged on 1 November 2011. The combined firm is known as Clyde & Co, and has 270 partners, 1,300 lawyers and fee earners and 2,350 total staff operating from 27 offices worldwide. We are different in scale and different by nature. We offer all our staff a challenging and stimulating work environment and the opportunity to access unrivalled international professional opportunities.
Our reputation as an employer speaks for itself: Clyde & Co was named Best Legal Employer in Legal Week magazine's 2011 Employee Satisfaction Report as well as Best Graduate Employer in the magazine's Law Student Report 2011. The merged firm of Clyde & Co and Barlow Lyde & Gilbert will be unique in focus, scale and reach, with: One of the top two dispute resolution practices of any leading UK law firm, with strength throughout the network. The most in-depth focus and expertise in our core sectors of aviation, energy, infrastructure, insurance, professional practices, trade and shipping, across all contentious and transactional disciplines An insurance and reinsurance practice with unmatched expertise in every class, throughout the value range and across the world's markets.
One of the largest employment and pensions practices of any City law firm, together with enhanced capabilities in corporate, global compliance and real estate. A significant business in Asia, with particular strengths in dispute resolution and insurance in Hong Kong and mainland China. A long-established and market-leading practice in the Middle East and a rapidly expanding presence across the US, Canada and South America
---
Sponsorship
We pay full fees for the GDL and LPC as well as a maintenance grant of £7,000.
---
Work placements
We offer one Easter and two summer vacation schemes which provide a fantastic opportunity to gain experience and find out more about Clyde & Co firsthand. The schemes are aimed at penultimate-year law students and final-year students of other disciplines. The placement schemes are also open to candidates who are currently studying for the GDL or LPC, or who are considering a career change.
Our schemes provide an opportunity for candidates to meet lawyers at every level, undertake a variety of work, and experience the very real differences between academic study and legal practice.
The interview process involves an assessment session including written tests and an interview with graduate recruitment. For more information and to view a copy of our brochure please visit our website at www.clydeco.com/graduate.
---
Training programme
We welcome applications from both law and non-law students who combine excellent academic results with strong commercial acumen and a practical approach to problem-solving. Trainees need to have the social skills to enable them to communicate effectively and build relationships with clients and colleagues. We welcome students from a variety of backgrounds who can contribute fresh thinking and share an international outlook. An eye for detail allied with sharp analytical skills, discerning judgement and commercial acumen as well as a strong sense of motivation are a must.
Our trainees are extremely important to us. We recruit to retain and invest significantly in all of our trainees' development, education and future. We have a relatively small intake comparative to our size and we value your individuality - you're not just a number to us but an integral part of the firm's future. You will gain early responsibility and be supported through close personal supervision and day-to-day coaching complemented by a wide range of training courses. You will undertake four six-month seats which will cover both transactional and contentious work. You may also be seconded to one of our overseas offices or have the opportunity for a client secondment. The interview process includes an assessment session with graduate recruitment followed by an interview with two partners.
For more information and to view a copy of our brochure please visit our website at www.clydeco.com/graduate.
---
Type of practice
Corporate & Commercial, General Commercial
---
Work areas
Aviation and aerospace, corporate/commercial, dispute resolution, ec/competition, energy, trade & commodities, insurance & re-insurance, real estate, shipping, transport & logistics. Clients include many of the world's top companies in insurance, shipping, financial services, oil and gas, banks, property developers, public companies and multinationals.
---
Probono initiatives
BPP Legal Advice Clinic, Citizens Advice Bureau, Environmental Law Foundation, Free Representation Unit, LawWorks, London Legal Support Trust (LLST), PILnet (public interest law), The National Pro Bono Centre, The Royal Courts of Justice Advice Bureau, TrustLaw Connect
---
Diversity access schemes
City Solicitors' Educational Trust, PRIME, Tower Hamlets Education Business Partnership