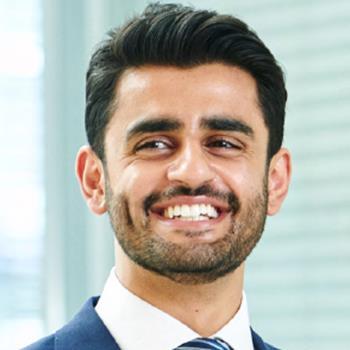 Adrian Kilercioglu
When: Summer 2016
Subject: Politics, philosophy and law (qualifying LLB)
University: King's College London
What did you do while on the vacation scheme (eg, type of work, networking, presentations or social events)?
There was a healthy mix of work and social events, alongside daily presentations on each of the firm's practice areas which were interesting, honest and informative, especially for those of us who had not spent much time in a law firm before. I sat in the finance team, where among other things I was asked to look at a template loan agreement and take out certain clauses, which was a challenging, but very interesting task. It was useful to experience what a trainee in the finance team might do on a day-to-day basis.
We were paired up with both a trainee buddy and an associate supervisor. The trainees and associates often took us out for lunch, where we could ask lots of questions in a more relaxed environment. We went out one day near the Gherkin to play mini-golf and were also invited to the firm's summer party on the last day of the scheme, which was really fun.
What did you feel that you gained from the placement (eg, insight into the firm, useful contacts or an appreciation of a trainee's workload)?
This wasn't my first vacation scheme or experience of corporate law, so the main benefit of the scheme for me was the chance to experience the culture at the firm – how colleagues interact with each other and so on. There are twin benefits to securing a place on such a scheme – experiencing the kind of work that solicitors do and getting a feel for a firm as a place to work, which was the most important thing for me when choosing a firm.
Which were the most enjoyable – and most challenging – aspects of the scheme?
Both the most enjoyable and most challenging aspect of scheme related to the work I was given. Most importantly, the work very interesting and varied – I absorbed so much useful information in the space of 10 days. Aside from the tasks set by our associate supervisors and trainee buddies, we were strongly encouraged to go out and seek work from others too. This meant I was able to complete work and gain an insight into different teams during my time on the scheme.
The work I was set was also challenging, as there were many unfamiliar concepts, particularly related to finance. Luckily, my associate supervisor and trainee buddy were great at explaining things, and really took the time to walk through my assignments with me.
Did the scheme end with a training contract interview or some other kind of further recruitment process?
Yes, everyone was interviewed over the last two days of the scheme.
Is there one key thing that you took away from the experience that you would pass on as advice to others?
The most important thing when applying is to be concise. Recruiters read hundreds of applications, so you need to make sure that they can see your key information easily and quickly to get through the first sift. And when on the scheme, bear in mind that you are in an assessment – even though the experience itself is really enjoyable. You have beaten hundreds of people to get onto the scheme, so at that point it really is yours to clinch.
View Kirkland & Ellis International LLP's details
Go to Kirkland & Ellis International LLP's website