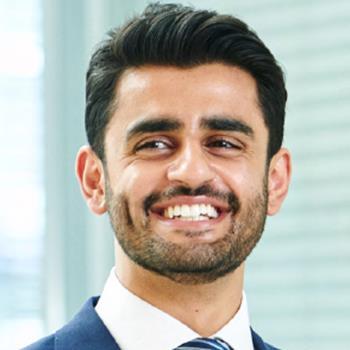 Georgia Cooper-Dervan
When: Summer 2017
Subject: Law
University: London School of Economics
What did you do while on the vacation scheme?
The vacation scheme candidates were divided between the corporate and debt finance teams, and I spent both weeks with the corporate team. There was a big pharmaceutical deal in progress during the first week so the team were busy, and I gained a good insight into how such transactions work by reading all the key documents, learning the client's business objectives behind the transaction and trying my hand at drafting. We were also encouraged to seek work from elsewhere, so I was able to meet people from across the corporate department and participate in other transactions. Beyond the work itself, there was a mixture of formal and informal events to attend, both inside and outside the office. These involved the wider firm and were not put on especially for vacation schemers, which was great because it enabled us to gain a clearer insight into life at the firm. For example, one talk was organised by the Women's Leadership Initiative at the firm and was given by the rower and Olympian Dame Katherine Grainger. There was also a mock transaction in which we were divided into two teams of legal advisers for two parties negotiating a sponsorship agreement, with the clients played by a partner and a senior associate.
What did you feel that you gained from the placement?
The experience gave me an accurate picture of Kirkland & Ellis as a whole, as the firm is smaller than others that do comparable work and I was able to meet and work alongside lawyers from many different practice areas. The people I met were diverse and there was no sense of rigid hierarchy, with everyone able to talk to each other regardless of their level of seniority. This was very different to the cultures at some firms where I have had work experience, where people were referred to by how many years of post-qualifying experience they had. Being encouraged to seek work from different practice areas was good for my confidence, whereas on other schemes I was simply given work to do by a supervisor.
Which were the most enjoyable – and most challenging – aspects of the scheme?
I really enjoyed the mock transaction – it enabled me to see what working on a deal from start to finish involves, which is something that I probably would not have experienced otherwise in just two weeks. The most challenging part of the scheme was a debt finance exercise that we were given at short notice, which tested our ability to think on our feet and use common sense, as we were not allowed to do any research for it.
Did the scheme end with a training contract interview or some other kind of further recruitment process?
Yes, there were two back-to-back partner interviews of 30 minutes each over the last two days of the scheme, focusing on my experience on the scheme and what I had learnt.
Is there one key thing that you took away from the experience that you would pass on as advice to others?
When you're going into an interview, try to feel confident and positive because you have already done so well to get there.
View Kirkland & Ellis International LLP's details
Go to Kirkland & Ellis International LLP's website