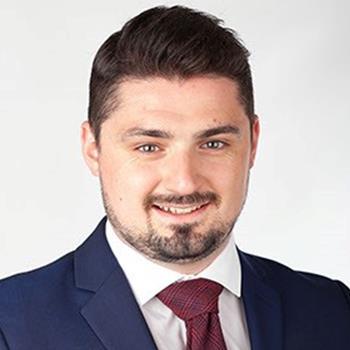 Chris Watkins
When: Winter 2015
Subject: Law
University: University of Leicester
What did you do while on the vacation scheme?
I sat in the banking department throughout the scheme, with my trainer who was a several-years' qualified associate. My time was split between presentations on the types of work the firm does and life as a trainee, as well as desk time doing work given to me by various members of the department. We also had several assessments, one of which was a client pitch which involved us working in groups and culminating in a presentation to a panel of partners and business development executives. The social aspect was great, with drinks and dinners, but just the right amount – I've been on other schemes where you're wined and dined the entire time! That can be fun, but you don't get a true sense of the firm and whether it's somewhere you'd want to join.
What did you feel that you gained from the placement?
A real idea of what it would be like to be part of team and firm; we were truly integrated into things. For example, as soon as I joined banking, they invited me to be part of the department's football team. I also loved having the chance to speak to trainees face to face, in an environment where they were able to be honest about their experiences.
Which were the most enjoyable – and most challenging – aspects of the scheme?
The graduate recruitment team did a great job of buddying people up with trainees; they looked after us all week. As a vacation scheme student, I felt that the work we did was valued, and my trainer took the time to go through it with me and give feedback.
The client pitch was a challenge – although we had done plenty of preparation and felt ready, it was a real grilling! The partners were very specific about what they wanted to know and we had to answer on the spot. Having to think on your feet and trying to answer questions from people with years of combined experience was challenging, but it was good to have had the experience. It has made me ensure that I am prepared for anything!
Did the scheme end with a training contract interview or some other kind of further recruitment process?
There was no formal interview, as the process we'd already gone through to get on the scheme was the same as for a training contract. Rather, we were assessed throughout the week, including on our work, client pitch, written assessment and drafting exercise. Then we had to indicate on the last day whether we'd be interested in being considered for a training contract. They let us know whether we'd been successful within a couple of weeks.
Is there one key thing that you took away from the experience that you would pass on as advice to others?
The most important thing is to integrate as much as you can. For example, playing with the football team got me off on the right foot with other members of the department, who were enthused by how keen I was! Another example was Christmas jumper day; we weren't entirely sure if we should join in, as we had been dressed quite formally, but we were absolutely encouraged to take part. It all helps to demonstrate that you are adaptable and able to fit in.
View Allen & Overy LLP's details
Go to Allen & Overy LLP's website