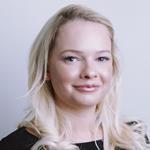 Keely McGuigan
BLM
Keely McGuigan is the emerging talent manager at BLM. She joined the firm in September 2015 and is based in the Manchester office.
How did you end up in law?
I discovered my passion for graduate recruitment through a placement while I was at university, so I moved to London after graduating and worked for a number of years as a graduate recruiter in a range of sectors, from retail and banking to tech.
In 2015 I relocated back to Manchester, where I was made aware of a graduate recruitment opportunity at BLM. I was keen to experience working in a new sector with a new pool of graduates, while BLM also looked to be a particularly exciting opportunity because the senior partner was putting a lot of investment into the firm's trainees – and still is!
What are the most enjoyable aspects of recruiting?
I enjoy getting out to campuses to meet candidates at that initial stage and follow them through the application process to training and beyond. Offering a vacation scheme and/or training contract to someone who you have seen grow throughout the process is always a great feeling.
Conversely, informing candidates who I have gotten to know that they have not been successful is definitely the least-enjoyable aspect of the job. However, I always try to mitigate this by providing detailed feedback from the assessment, which will hopefully help candidates going forward – and if they decide to apply again in future.
What is the biggest challenge of the job?
The biggest challenge for BLM specifically is conveying a sense of our insurance and risk practice across to students – many of whom will not have studied these in detail – and the exciting opportunities that there are in these areas. We now also have the commercial advisory business stream at BLM, which is very exciting and will bring plenty of new opportunities.
What has been your most memorable moment in the job?
It is really great to see new starters join us, who have been through the full recruitment process (including vacation scheme) while I have been at BLM. It's great to see the candidates that I have gotten to know throughout the whole process join us on their first day – and support them throughout their training contract and beyond at BLM.
Do you socialise with your trainees/vac scheme students?
Yes, it's great to get to know colleagues in an informal environment and it is particularly important for us as graduate recruiters to be approachable and accessible. We are also doing more on the socialising side in our regional offices by encouraging our trainees to take the initiative and organise social events for themselves and future joiners!
What are you trying to achieve at law fairs?
Law fairs are a great opportunity to raise the firm's profile and spread awareness of who we are and what we do. It is also important to enable students to meet our trainees, as this really helps them to get to grips with what lawyers do, particularly at the junior end. On the flipside, law fairs are a good chance for us to meet strong candidates and start building relationships with them.
What's the best question you've been asked at a fair?
It's great when you can see that a candidate has done some wider research before coming to the fair, especially if he or she has taken the time to look at the firm's social media activities and blogs, which are driven by our trainees.
However, I wouldn't want students to be put off approaching us at fairs if they haven't heard of BLM. Students could easily find themselves really interested in what we do, without necessarily having heard of us at that early stage.
How important is your vacation scheme as part of the recruitment process?
Our vacation scheme is a very important part of our recruitment process, for BLM and for the candidates. Each candidate is buddied up with trainees and will experience exactly what our trainees do over the course of the two weeks – so it is the best way to find out if BLM really is the place you want to work (we hope so)!
The recruitment process for our vacation scheme is exactly the same as for our training contract, meaning that at the end of the two weeks we are in a position to make training contract hiring decisions, with no extra recruitment stages. We do aim to recruit a high number of our future trainees via the vacation scheme, and over 70% were successful last year.
However, we do keep a number of opportunities available for direct training contract applicants – so don't worry if you aren't able to fit in a vacation scheme.
What is the most common mistake you see candidates making, apart from the obvious typos?
Our application form is very specific to BLM and requires a lot of research, so candidates trying to make our questions fit their stock answers can be a common mistake. I appreciate that most candidates are applying to multiple firms and that this is very time consuming, but it really is important to write your applications individually, as it is so easy to tell otherwise. It's better to spend the same amount of time writing fewer, carefully targeted applications than firing off dozens filled with stock answers.
What are the attributes you look for in a trainee that are particularly suited to your firm?
It's important that candidates know that we never screen applications based solely on academics – we always read the whole application form. We are looking for people to have done their research into BLM, and for applicants to have clearly thought about the role they are applying for and to demonstrate that they have a strong commercial awareness. For us, this simply means being aware of the market in which both we and our customers operate.
We are not looking for people who can just fulfil the basic requirements of a trainee; we want people who are going to stay with us and progress to become our partners of the future.
Do you value non-legal work experience as well as legal?
Non-legal work experience is just as valuable to us as legal experience – this includes people who have worked part time while studying, as well as those who have had fully fledged careers in other sectors before coming to us. Anything customer facing is great for us to see as building and maintaining customer relationships are a huge part of a solicitor's role.
What advice would you give to anyone thinking of joining the legal profession?
For me, it's all about research. Read up on the different law firms and areas of law, and be sure not to discount anything. After that, try to secure some experience to see if the areas which interested you during your research match your expectations in practice. Then, narrow down your search to a relatively small group of firms, so that you can dedicate the time needed to make high-quality, individually crafted applications.
Which practice areas are the real core of the firm's business and will this change?
BLM has always been predominantly an insurance and risk firm, which covers a huge range of activities from 'slips and trips', to cases involving death in custody, to clinical negligence. We operate on the defendant side, so our main clients are the top insurers. We now also have a commercial advisory team, specialising in non-contentious business law, real estate, commercial litigation and employment. This part of the business is fast-growing and has lots of new and exciting opportunities!
What's your desert island disc?
Anything from '90s pop or R'n'B that I can sing along to – provided that I'm on this desert island on my own!
View BLM's details