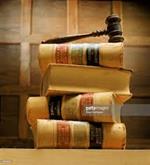 Thinking about law? Some helpful books and blogs (part one)
Hi, hello and welcome. As August rolls onwards and the start of the academic year draws ever closer, I thought it was time for my first post on this blog!
For the record, I am a recent graduate who has decided to take the plunge and study the GDL next year. After deciding that I didn't actually want to be an academic (I completed a humanities undergrad degree at Durham, followed by a master's at Cambridge), I have spent the past year working abroad and have recently accepted a training contract with a large US law firm.
I am, in equal parts, excited and terrified.
This blog has a couple of different aims. For one, I am hoping to track my experience on the GDL as it unfolds in real time, and this is something that I want to do as honestly as possible (hence the anonymity). I also want to give as much candid, practical advice about applying to law firms and thinking about a career in law as I can. It was not a process that I found particularly easy or straightforward, and hopefully my ramblings will be useful to some of you out there who think the law might be a good fit, but don't really know where to start.
On that note, I've put a list together of some books and blogs if you're 'thinking about the law'. It's mainly aimed at those people who have been thinking about law for a little while, but aren't yet ready to invest crazy amounts of time and money in work experience. These are some resources that you can explore in your own time, for free (or for very little money), and which will hopefully be interesting, regardless of whether they set you on the path to becoming lawyer or put you off law for life.
Part one: books
NB Part two will offer a list of blogs and other online resources.
This list could probably go on forever, but I've tried to pick a range of different books that address some of the questions that come up when thinking about the law - such as, what is the law? Why is it there? What does justice look like in practice? Who are the people who make the decisions? How does the law affect all of us? And will I even survive law school?
To Kill a Mockingbird, Harper Lee - A must for student lawyers, this is a groundbreaking story about race relations and the law in the American South.

The Rule of Law, Tom Bingham - Great book by a former lord chief justice about the purpose, principles and practicalities of the law, but quite heavy-going at times.

The Nine: Inside the Secret World of the Supreme Court, Jeffrey Toobin - Deals with a lot of important developments in American law since the 1970s (eg, abortion, gay rights, religious expression and election law) as well as lots of Supreme Court gossip.

Just Mercy: A Story of Justice and Redemption, Bryan Stevenson - A moving and often frustrating account of injustice in the US legal system, told using real cases fought by a young lawyer just out of law school.

Learning the Law, Glanville Williams - A classic, but very dry. Covers everything from the structure of the British legal system to how to use a law library. Useful for answering the questions that you think are too basic to ask anyone else.

One L, Scott Turow - Very readable account of a year at Harvard Law School that will make you scared of lawyers and law students, but also give you a useful insight into what is involved in studying the law.
Of course, if you want to throw some John Grisham legal thrillers in there, you are more than welcome to. Better still, you can watch Erin Brockovich and ignore the books altogether. But I really wouldn't use any list to try to make up your mind about a career in the law. Instead, I found dipping into a few of these books just made me more interested in the law as an option and prompted me to start approaching law firms and barristers' chambers for some practical experience.
In my next post, I'm planning to put another list together, this time of blogs and websites that you can also use to start exploring. I'm will also write about some of the factors I used to weigh up when deciding to accept my training contract and put other options to one side.
But until then, happy reading!
Get the LCN Weekly newsletter
Get our news, features, recruiter and lawyer interviews, burning questions, blog posts and more sent straight to your inbox with our weekly newsletter. You also get access to a free personal MyLCN account.