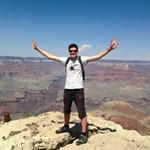 Samuel B
I studied history and politics at the University of Oxford, and will be studying the GDL at BPP from September 2016. Having recently completed a vacation scheme and secured a training contract from a leading silver circle firm, I will be sharing my tips while also discussing the GDL and pressing legal/political issues!
Posts
20/11/2017
Last week was our advocacy assessment, which involved acting as a trainee for an applicant or respondent in an application for an extension of time.
02/11/2017
Sadly, the clocks going back at the weekend didn't give me an extra hour in bed – it gave me an extra hour to revise.
16/10/2017
Most of my friends and relatives don't know much about the legal profession, and are always surprised to find out that the top firms recruit a substantial number of non-law students as future trainee solicitors. In some firms the figure is close to half.
03/10/2017
I have never until this week had an exam which involved interviewing and advising an actor playing a client.
18/09/2017
It's a funny form of taking back control that gives a sovereign parliament little or no say in how 30 years' worth of legislation is incorporated into UK law.