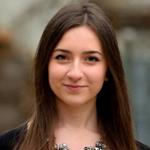 Irina M
First year law student at The University of Manchester, coming from Romania and hurriedly adjusting to the British culture. My aim is to give you a personal and academic account of what it means to study law, while sharing tips on how to make the most of your experience at university.
Posts
20/11/2017
The business world is like an exhibition of legal matters and conflicting interests. Once you are familiar with the news, you can analyse fascinating legal debates, keep track of current legal developments and develop your critical assessment skills.
01/11/2017
For a law student, the best way to enhance your educational process is to have more than a tangential understanding of current affairs.
17/10/2017
Only it's not exactly a case, but a work of fiction which could not raise more genuine moral dilemmas. 'The Case of the Speluncean Explorers' is an article by legal philosoper Lon L Fuller published in The Harvard Law Review in 1949, assigned to first-year students as the topic for the first class discussion.