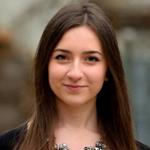 Irina M
First year law student at The University of Manchester, coming from Romania and hurriedly adjusting to the British culture. My aim is to give you a personal and academic account of what it means to study law, while sharing tips on how to make the most of your experience at university.
Posts
19/02/2018
Part of being a law student is learning how to argue, by which I mean constructing a case with both a clear structure and persuasive content, requiring the development of a niche set of skills.
01/02/2018
Studying law might seem overwhelming at times and this feeling peaks when assessment is approaching.
17/01/2018
December started off quite excitingly - I spent a week in London participating in Clyde & Co's Bright Futures programme, a one-week work experience scheme designed for first year law students and second year non-law students as an insight into the environment at the headquarters of a law firm.
03/01/2018
As a first-year student, you may not yet have acquired the legal knowledge to aid you in legal extracurricular activities, but, you can still get a glimpse of what it is like to work in this field and have an idea of the skills that you need to develop by using your energy and eagerness to learn as much as possible.
19/12/2017
The conversations I have had so far with graduate recruiters at various law firms revolved around a common core of expectations they have from candidates who send in applications and attend interviews.