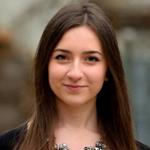 Irina M
After one year of legal work experience, including an insight scheme at a London law firm, volunteering at a legal advice centre and winning first prize in a mooting competition, I am ready to embark on the second year of my law degree and share all the good and bad bits with you here on my blog.
Posts
19/09/2018
My summer to-do list included a visit to the Supreme Court, as coming across this institution so often during my studies sparked my curiosity about what it's like on a day-to-day basis. I was pleased to discover that the building which houses the Supreme Court reflects its functions in ways that did not occur to me before stepping into the shoes of a visitor and going on a tour.
11/06/2018
Tribunals are a vital feature of the legal system. Their role is to hear appeals challenging government decisions, in areas such as social security, immigration or employment, where a statutory right to appeal is created.
15/05/2018
There are a few lessons I have learned about how to make sure that the university you choose is suitable for you.
03/05/2018
In response to a suspected chemical attack on the town of Douma on 7 April 2018, the US, UK, and France launched airstrikes on three government sites in Syria, targeting chemical weapons facilities.
16/04/2018
Working part-time alongside my law degree has really helped me become more independent: it has provided me with a source of income and has also exposed me to the responsibility of solving problems on a daily basis.