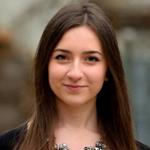 Irina M
First year law student at The University of Manchester, coming from Romania and hurriedly adjusting to the British culture. My aim is to give you a personal and academic account of what it means to study law, while sharing tips on how to make the most of your experience at university.
Posts
11/06/2018
Tribunals are a vital feature of the legal system. Their role is to hear appeals challenging government decisions, in areas such as social security, immigration or employment, where a statutory right to appeal is created.
15/05/2018
There are a few lessons I have learned about how to make sure that the university you choose is suitable for you.
03/05/2018
In response to a suspected chemical attack on the town of Douma on 7 April 2018, the US, UK, and France launched airstrikes on three government sites in Syria, targeting chemical weapons facilities.
16/04/2018
Working part-time alongside my law degree has really helped me become more independent: it has provided me with a source of income and has also exposed me to the responsibility of solving problems on a daily basis.
04/04/2018
The unfolding story about Facebook and Cambridge Analytica reveals in a spectacular yet rather disappointing manner how little control we have over our data and how powerful the companies who actually control it are.