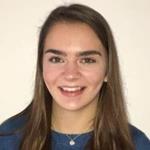 Chantal Elian
I'm Chantal and I am currently an undergraduate at the University of Leicester studying English and History, entering the final year of my degree! I am beginning my applications to undertake the GDL after graduating and working towards gaining a training contract in the near future. I am keen to help other non-law students and hope that I can achieve this by sharing my experience whilst navigating the legal world without a law degree!
Posts
12/07/2018
Vacation schemes are one of the most invaluable experiences for anybody considering a career as a solicitor and from my own experience have taught me so much more than I imagined.
13/06/2018
Trying to find your feet and secure the necessary steps to begin your legal career isn't easy for anyone; which I think is one of the most important things to remember as a non-law student.
30/05/2018
Securing a spot on a vacation scheme is an amazing accomplishment and a huge step in the right direction!
21/05/2018
It can be frustrating and feel like the end of the world, but using the good along with the not so good is all part of learning; without even realising it, these experiences help to shape us into better candidates.
02/05/2018
Assessment days are a huge step towards attaining a place on a vacation scheme and/or a training contract and are a common part of the recruitment process.