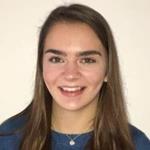 Chantal Elian
I'm Chantal and I am currently an undergraduate at the University of Leicester studying English and History, entering the final year of my degree! I am beginning my applications to undertake the GDL after graduating and working towards gaining a training contract in the near future. I am keen to help other non-law students and hope that I can achieve this by sharing my experience whilst navigating the legal world without a law degree!
Posts
09/10/2018
Taking an interest in and understanding current commercial issues is a significant part of joining the legal profession but should not be something that puts you off.
11/09/2018
As a non-law student, your final year opens up new exciting opportunities, some important steps towards your legal career, and plenty of decisions along the way.
07/08/2018
Applying for the GDL is a big step towards a legal career following your undergraduate degree and perhaps the first time you will be making a commitment to study and subsequently practice the law.
12/07/2018
Vacation schemes are one of the most invaluable experiences for anybody considering a career as a solicitor and from my own experience have taught me so much more than I imagined.
13/06/2018
Trying to find your feet and secure the necessary steps to begin your legal career isn't easy for anyone; which I think is one of the most important things to remember as a non-law student.