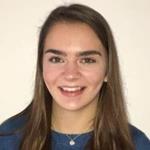 Chantal Elian
I'm Chantal and I am currently an undergraduate at the University of Leicester studying English and History, entering the final year of my degree! I am beginning my applications to undertake the GDL after graduating and working towards gaining a training contract in the near future. I am keen to help other non-law students and hope that I can achieve this by sharing my experience whilst navigating the legal world without a law degree!
Posts
11/04/2018
In short, the answer is that there is really no 'right' time to begin getting involved with the legal world; as clichéd as it sounds, everyone is different and a single timeframe won't fit everybody.
29/03/2018
Admittedly, when I first began seriously considering a legal career, I felt the panic of thinking my non-law degree would have ultimately been a waste of time.
12/03/2018
The term 'commercial awareness' is something that since exploring the legal sector as a career route, has become a very familiar phrase.
22/02/2018
A popular way of screening candidates during the application process for a variety of opportunities such as work experience, vacation schemes and training contracts is through the use of a variety of online psychometric tests
12/02/2018
One of the biggest struggles I have found along my journey is juggling my course alongside my extra-curricular commitments and keeping up with the legal world.