Lawrence Graham LLP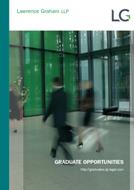 Brochure
With glitzy photos of its plush Thames-side offices and interviews with its small intake of trainees, Lawrence Graham's brochure is a great advertisement for the firm.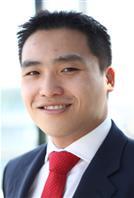 James Warboys

Encouraged by the refreshing summer placement, I applied to LG as a firm noted for its diverse range of practice areas. The training contract has reinforced my expectations of LG as a firm which values trainee contributions, stimulating initiative and self-improvement with a challenging and supportive working environment.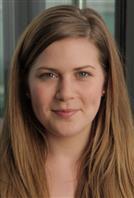 Frances Little

I wanted to work for a leading city firm with strengths across several practice areas and an impressive roll call of clients but I also wanted to join a firm where individual contributions are recognised. I've only been at LG for 6 months but my expectations have already been met.
Applications to: Ms Fiona Fairlie
Method of application: Online application form
Method of assessment:
Assessment centre
Partner interview
Deadlines:

| | |
| --- | --- |
| Training contract to commence 2015: | 31/07/2013 |
| Summer work placement: | 31/01/2013 |
| | |
| --- | --- |
| Vacancies: | Approx 15 |
| Trainees: | 32 |
| Partners: | 68 |
| Staff: | 391 |
| Work placement: | Yes |
| Number of work placements: | 10 |
| Minimum qualification: | All disciplines: 2.1 degree, 320 UCAS tariff points from 3 A levels taken in first sitting (not including General Studies) |
| Start salary: | £35,000 |
| Sponsorship: | GDL/LPC plus maintenance grant |
Application details and method of selection
You will need a 2.1 degree or higher in any discipline and A levels totaling at least 320 UCAS points. Additionally, enthusiasm and confidence are important at LG, so if we sound like a firm that interests you, the next step is to submit your application.
How to apply
Applications are invited from aspiring lawyers who are at least final-year non-law or penultimate-year law students.
Visit graduates.lg-legal.com from October to apply for a vacation scheme, submitting your application no later than 31 January 2013.
Visit graduates.lg-legal.com now to apply for a training contract, submitting your application no later than 31 July 2013.
---
Firm description and career prospects
When you join LG as a trainee solicitor you become a vital part of a world-class business law firm. We advise high-profile clients on all aspects of their business activities, from raising capital to real estate acquisitions to disputes. Join us and you will benefit from our leading reputation, international reach and market expertise. We are a distinctly different legal practice; our approach is relationship-driven both when it comes to our clients and our people. So, whilst we all work hard to achieve our goals, we do so with exceptional colleagues, first-rate training anf a friendly and supportive environment.
---
Sponsorship
We have an exclusive agreement with the College of Law, so all of our future trainees complete the LPC with them in Moorgate. We will sponsor you through your studies, plus supply a maintanance grant. We try to ensure that your transition into the firm is as smooth as possible.
---
Work placements
Our vacation schemes are designed to help you decide where to start your career. We offer three vacation schemes, each run for two weeks over the summer. They offer you the chance to spend time in two of our departments, working for a number of lawyers and partners.
As a vacation student you will be completing real work and could be visiting clients, attending seminars and getting involved in client events. At the end of your scheme you will be offered an interview for a training contract position.
---
Training programme
The right training contract can make all the difference. Ours is designed to deliver the perfect balance between responsibility, client exposure and support. Each year we recruit approximately 15 trainees who undertake four six-month seats spread across our key practice groups. We do not encourage you to specialise too early. We need you to be excellent all-round lawyers - our clients like it better that way. You will receive regular feedback throughout your training contract, including formal appraisal meetings every three months where we will discuss your progress and expectations of the next three months.
---
Type of practice
Corporate & Commercial, General Commercial
---
Work areas
---
Diversity access schemes